Animal Success Stories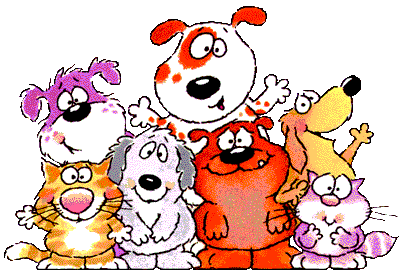 HAPPY TAILS!
We love hearing updates about our former rescues from their forever families. If you have adopted a pet from Rose's Rescue and would like to submit his or her story for our Happy Tails page, please send it to annec@rosesrescue.net, put Happy Tails in the subject line, and don't forget to include a picture!
Click a letter to find an animal or
view all
.
Cletus the Coonhound
Cletus is doing so well and we're so happy he and Cooper haven't had any issues. Usually they pick their "own" spots to relax during the day but I have a few pictures of them getting a little closer to each other! Cletus is definitely still pulling on walks and doing his best to investigate the garbage can when we aren't looking (we have a locking lid and he hasn't been able to open it, but not for lack of trying!) but otherwise he is an angel :) He's been snoozing in James' office during the day and is just very sweet and laidback most of the time. I'm sending a few pictures from his first few days!
Charlie*
So, our boys continue to grow and do well despite the occasional "mess" and they have generally been very excellent about the mornings, I wake up to dry clean floors and the only time I get into trouble later is if I push them too far in their tolerance. On the other hand, I have found that as long as they are physically in my presence they will stay in good control and a couple days ago I intentionally did an 11 hour stretch they handled it without problem. Still some work to do but we're getting there. Lucas has now turned into a complete and total snuggle bunny and insists on morning and evening close hugs and particularly likes to crawl on the bed, put his head on my arm and then fall asleep. Of course, as this was formerly Sam's exclusive territory (Charlie sleeps on my head, you see) there's been a little jealousy. It doesn't erupt in any sort of hostility but sometimes it gets a little overwhelming with both of them demanding attention. That is, as they say, a good problem to have with rescue dogs.   Bernie continues to be a good boy and will now come up for head pats and rubs, and will occasionally sit down and go for a full body rub but has not got to the point of stretching out belly up like the others. He will get there, he's just a little reserved compared to the other dogs. Bernie has also developed one other unusual bathroom habit, as has Lucas. Lucas first, he will sometimes require 3 separate walks before he takes a poop. He will immediately pee when he goes out but the rest of the time is scavenging snow comes from the ground and licking up snow which distracts him from bathroom duties. A little time-consuming and aggravating, but I would rather have the additional walks than retrain him to go in the house.   Now Bernie, on the other hand, after his initial pee will go find one of his favorite bathroom spots but with 10 inches of snow he starts by digging a hole, then turns around and backed into it, takes care of business and then use his hind legs to fill the hole in. It's actually very funny how serious he is about this and he always looks inordinately proud when he is done.   Frustrating at times, yes, but still good and lovable boys making great progress and I admire and love them. Here's a few shots of these fellows and some of the other crew, including a brief video showing how surround I get during the day when I'm working!
Chia - Kitten
We LOVE our baby girl. She is the biggest cuddle bug but boy she can be ornery too! She gets prettier everyday and it's like she was always a part of our family!!
Cheeko-People Loving Special Needs Boy
We just love Chico. He is a cuddle bug for sure. I was in the hospital last spring and he latched onto my daughter. Now they have a special relationship. When she comes over he just cannot get enough of her
Chantilly
We have had Tilly, formally Chantilly, for 5 years on April 11th. She has been the best dog. She loves to sit with anyone that will pet her. At night she we will check on her 2 human babies, 5 and 6 years old, before bed and will sometimes sleep with them. She got a fur sister a couple of years ago and the 2 love playing together and being together. Tilly can always tell when someone is sad and will go and comfort them. We are so lucky to have found her and we all love her to pieces. Attached is a picture of her and her sister, Aurora, cuddling together. We are thankful everyday to have her in our lives and she makes us a better family.
Click a letter to find an animal or
view all
.